Group C: Germany, Ukraine, Northern Ireland, Poland
Tips qualified possible. In Group C Germany and Poland, according to the bookmakers, are the favorites to go through, but particular attention should be given to Ukraine. Germany and Poland meet again as it did in the qualifying round. No opportunity is given to Northern Ireland.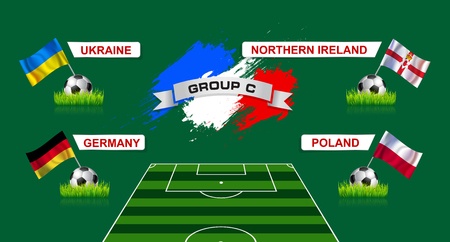 The great favorite of these Europeans is Germany winning the World Cup in Brazil. In group C the Low team should have no problem winning. Always considered one of the strongest national, he has lifted the trophy in three circumstances in the past, in 1972 and 1980 (as West Germany) and 1996. Only in 1968 the German national team did not qualify to European and also counts three defeats in final. The numbers in Germany are impressive: since the 2000s painstaking work since the youth sector has enabled the Federation to build a winning team capable of reaching almost to the bottom of each competition including at least the semi-finals in the last four editions of the Europeans .
Poland is the third consecutive participation in a European Championship after those of 2008 (first time ever) and 2012. The Robert Lewandoski team in the qualifying group was ranked only behind by one point compared to world champions Germany and has the main protagonist of the striker of Bayern Monaco, top scorer in qualifying with 13 goals scored. The formation of Nawałka will also seek to redeem the disappointing last places obtained in the days of the previous editions in which the red and white had qualified.
The Northern Ireland debut. Thanks to the first place gained during qualifying he made the big leap. The National went closer to the final stage of a European only in 1984. O'Neill's team will try to honor until the end of his tournament, although it will be very difficult to see the power of the opposing teams.
Ukraine is in its second participation in a European Championship after the first appearance in 2012, when the nation was also the organizer. The Fomenko team is looking for the speedy redemption after deleting the group took place four years ago despite a good start aided by the comeback win against Sweden by 2 to 1. The defeats against France and England have then turned off the dreams of glory of an entire nation. In the past Ukraine had the merit of providing the Soviet Union great players that have allowed him to achieve major breakthroughs in the years '60 -'70 and '80. Assumed the top spot she Germany, Ukraine will play the possibility of a qualification with Poland.