Group D: Spain, Turkey, Czech Republic, Croatia
Tips qualified possible. In Group D Spain is the number one favorite to the next round according to the bookmakers. For second place bulleted eyes, in order, of Croatia Czech Republic and Turkey. It will be a good fight for second place with two teams fighting almost on par, more secluded Terim's team.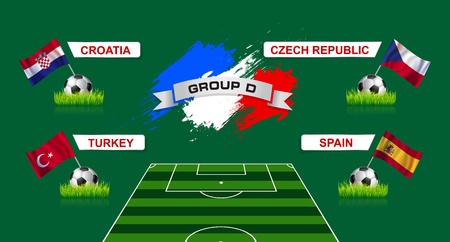 Spain arrives in France by defending champion and 2012 but also in 2008. The Spanish national team has been for years a power of world football having won for the last 8 years the two European and one world cup. The angry red in their group have gained 27 points of 30 available: a practically perfect team against which disposed of the output to the Brazilian World Cup disappointment.
Croatia, second in Group H, in their fourth consecutive appearance at the European and showed a lot of quality in the last two years. The best result for the red and white were the quarterfinals obtained in 1996 and 2008. National always tough to deal with it is highlighted since the 90's. Only without the Europeans in 2000.
The Czech Republic is the fifth participation in the European Championships. Recall that the team takes the field since 1994 as an independent nation. Since then, training has always qualified losing the final in 1996 against Germany and reaching the semifinals in 2004 (the team was defeated by Greece). The best result ever was achieved in 1976 with the victory of the tournament, but it was the national team of Czechoslovakia. The Vrba team, winner of their tournament, looks like a tough team and difficult to deal with. Trained to watch out for that could give a hard time.
Turkey was ranked as the third best in these European and returns to participate in a European competition after eight years of absence. For € 2012, the fact the team failed to qualify. The best result obtained from Turkey to Europe have reached the semi-finals in 2008 under the guidance of Terim. The team was defeated by Germany after victories against Switzerland Czech Republic and Croatia. The Turkish national team is preparing has to perform, but the group is not of the easiest and by many experts is given little chance.