Even for Italy and Belgium begin these Europeans:
The Conte's men will face the formidable formation of Wilmots. Belgium Italy, the calendar has been highlighted the challenge between the two countries, at least on paper, the strongest in the group E. Without detracting from Sweden that could be the loose cannon of the group. Belgium Italy, here we see as two teams are to this commitment. The Italian national team is back from two consecutive victories respectively against Finland (2 to 0) and Scotland (1 to 0).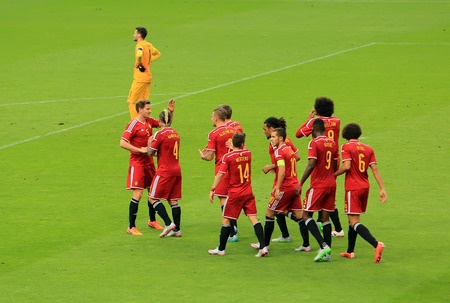 In 2016 in Italy also came a defeat, always in a friendly against Germany (4 to 1) and a draw 1 to 1 against Spain. Belgium Italy, the Italian team has the wonderful opportunity to take off the international criticism by many experts after Conte's choices, especially in attack. It will not be easy against a Belgian candidate for the final victory. The Wilmots team gets the victory by 3 to 2 against Norway, from 1 to 1 draw against Finland and the victory by 2 to 1 against Switzerland. In these friendly Belgium it has exposed some defensive problems but at the same fear an increasingly dangerous attack, purposeful and fit. Belgium should take the field with a 4-3-3. Courtois on goal, Vertonghen and Alderweireld Vermanen Denayer in defense, Nainggolan Witsel Fellaini in midfield, in attack Lukaku central striker flanked De Brunye and Hazard. Possible runoff between Alderweireld and Ciman, favored the first. Conte will rely on 3-5-2. Buffon in goal, Barzagli Bonucci and Chiellini, five man midfield with Candreva Florenzi De Rossi Giaccherini Darmian, in Pellè and Building attack. Possible between Building and Eder, and between Florenzi and Parolo, they should take the field the first mentioned.
PROBABLE LINE-UPS BELGIUM ITALY:
BELGIUM (4-3-3): Courtois, Alderweireld Vermanen Denayer Vertonghen, Nainggolan Fellaini Witsel, De Brunye Lukaku Hazard. Coach: Wilmots
ITALY (3-5-2): Buffon, Barzagli Bonucci Chiellini, Candreva Florenzi De Rossi Giaccherini Darmian, Pellè Immobile. Coach: Conte
Belgium Italy, the prediction recommended by our editorial staff is the double chance 1X.
888 Sport share the double chance 1X to 1.39, the highest quotation on the market. Also interesting are the considerable bonus that offers 888 Sport to all bettors. Belgium Italy, the two teams have met in a friendly last November, in that 'time Wilmots won the men 3 to 1 showing a clear superiority from the point of view of the quality of the game, as well as the possession. In the last six friendlies Belgium has won 4 times, lost one (against Portugal 2 to 1) and a draw (1 to 1 against Finland). The 13 goals he scored in six races, 8 those suffered in as many games. Hazard, Carrasco, Lukaku and De Bruyne Mertens are ugly customers to deal with and they always hot foot, regardless of who plays. Turning to Italy, the formation led by Conte, he had this journey in the last six friendlies: 2 wins (Scotland and Finland), 2 losses (Belgium and Germany) and 2 draws (Spain and Romania). Italy, despite various difficulties manifested in attack as the statistics show, can count on a good defense, probably the best in the competition having Buffon Barzagli Bonucci and Chiellini reliable men. Belgium favored but watch Italy that could opt to not lose the game by earning a valuable draw
Statistics and standings can be found here: Statistics and predictions Belgium - Italy