Finally begins Group F with Portugal Iceland:
Second match of the day after Austria Hungary. Portugal Iceland, at 21, the first match point for the formation of Santos, candidate number one to win the group, but also as a possible outsider. The Portuguese team arrives this match debut in a state of tremendous form: four straight wins in as many friendlies played. Iceland which instead comes with a path a bit 'lame and not constant, victory 4 to 0 against Liechtstein, defeat against Norway victory over Greece and defeat against Denmark. Portugal has qualified these Europeans in fluency having won their qualifying group ahead of Albania: the Portuguese, along with the likes of national Spain Germany Italy France, they are among the domestic always qualified in the last five editions of the Europeans.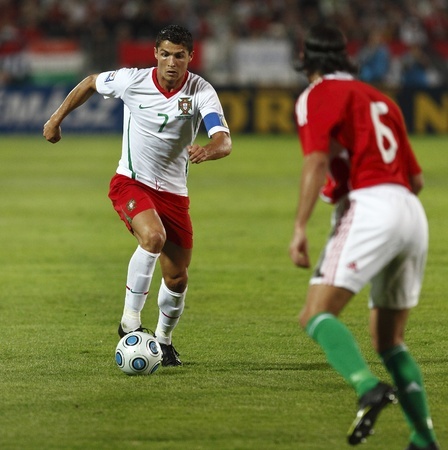 Iceland participates for the first time the finals of a European championship with a second-place finish in qualifying. Nordic training has improved a lot over the last few years, but on paper it will be very difficult to pass this group also consists of Austria and Hungary. The best-known players in the European football scene are Bjarnason (old acquaintance of Sampdoria and Pescara) and Finnbogason author of seven goals in 31 international appearances (but also of eight goals this season between Olympiakos and Augusta). Santos should deploy Portugal with 4-3-3. Rui Patricio in goal, Cedric Eliseu Pepe Carvalho in defense, midfield Mountinho pin with Gomes and Danilo, in attack the trio of wonders Nani Quaresma Cristiano Ronaldo.
Iceland in the field most likely with the classic 4-4-2. In Kristinsson door, Skulason Ragnar Sigurdsson Arsanon Sevarsson in defense, midfield with Gylfi Sigurdsson and Gudmundsson Gunnarsson Bjarnason, in attack Sigthorsson Finnbogason.
PROBABLE LINE-UPS PORTUGAL - ICELAND:
PORTUGAL (4-3-3): Rui Patricio, Cedric Pepe Carvalho Eliseu, Gomes Moutinho Danilo Quaresma Nani Cristiano Ronaldo. Coach: Santos
ICELAND (4-4-2): Kristinsson, Skulason R. Sigurdsson Arsanon Sevarsson, G. Sigurdsson Gudmundsson Gunnarsson Bjarnason, Sigthorsson Finnbogason. Coach: Lagerback-Hallgrimsson
Over 2.5. This is the prediction for Portugal Iceland.
888 Sport is the recommended bookmaker able to dimension the over 2.5 to 2.30, the highest share in this market for this prediction. 888Sport.it also offers interesting and attractive prizes for all bettors (eg 100 welcome bonus euro). Portugal has scored no fewer than 14 goals in their last six friendly matches (an average of over 2 per game) networks, and in the two games against Iceland won 5 to 3:03 to 1. The couple Quaresma Cristiano Ronaldo looks to this challenge in a super size: 7 goals scored in three games by the Portuguese leader. Cristiano Ronaldo also hunting for new reasons and other records after those achieved in the Champions League. The champion Real Madrid has set its sights on nine goals scored by Platini to Europeans: Cristiano Ronaldo is currently at level six, but also wants to be the first footballer to score in four different editions of the European competition. Portugal not only strong in attack, but also in other departments having experienced players (in addition to those mentioned) and quality as Ricardo Carvalho, Pepe, Moutinho, Nani, in addition Sanches Gomes Guerreiro. Iceland is presented in this competition with a defense that has never played a big level races and especially inexperienced: 12 are also the goals conceded by the formation of coach Lagerback and Hallgrimsson in the last 6 played friendlies (two goals conceded on average each game). Moreover, if we analyze the races in the long term Iceland, bringing to nine the final races to be analyzed, we note that the goals against are as many as 19 (on average more than two goals conceded)
Statistics and standings can be found here: Statistics and predictions Portugal - Iceland