The second day of Group E will see in front of Belgium Ireland,
decisive match for the national of Wilmots after the defeat against Italy debut. Belgium Ireland, an important race for the team fresh from Long draw against Sweden, but despite the point the formation of the channel has shown a very good organization of the game. Belgium Ireland, 0 points for Hazard and companions, one instead for the formation of O'Neill unexpectedly ahead in the standings.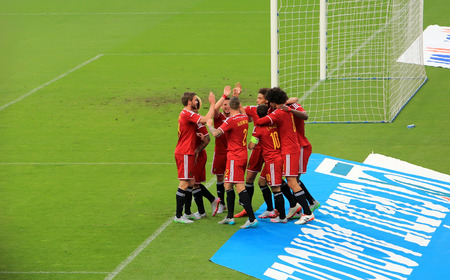 Belgium should take the field again with the 4-2-3-1. Courtois in goal, defense consists Denayer Alderweireld Vermaelen, Vertonghen, Witsel Nainggolan in midfield, Lukaku central striker with De Bruyne Fellaini Hazard. Ireland and very covered the field with a 4-4-1-1. In goal Randolph, Coleman O'Shea Duffy Brady in defense, Walters Whelan McCarthy Hendrick in midfield, Hoolahan to support Long in attack.
PROBABLE LINE-UPS BELGIUM - IRELAND:
BELGIUM (4-2-3-1): Courtois; Denayer Alderweireld Vermaelen Vertonghen; Witsel Nainggolan; De Bruyne Fellaini Hazard; Lukaku. Coach: Wilmots.
IRELAND (4-4-2): Isaksson, Lindelof Johansson Granqvist Olsson, Ekdal Kallstrom Durmaz Hiljemark, Ibrahimivic Guidetti. Coach: Hamren
the prediction recommended for this match is the victory of Belgium.
 offers important bonus to all bettors. Invite everyone to visit the well-known bookmaker. Because the victory of Belgium is our prediction? Here is the explanation. The Wilmots team, by many experts as a possible candidate for the victory of the Europeans, can not fail again and is called redemption. On the technical side there is no comparison between Belgium and Ireland, much stronger the team Lukaku and companions. Just the attack we believe will be the extra weapon for this Belgium. De Bruyne Mertens Carrasco and Hazard are technical players, able to create unpredictability and numerical superiority in one against one. Without forgetting the power of Lukaku. Ireland's defense, which has governed well against Sweden (able to play only and only for Ibrahimovic), in this game can get in trouble if pressed and attached to the beginning. He just needs to win the Belgium, half misstep could greatly complicate the plans for the next round. In the last three years Belgium after a defeat suffered reared its head conquering the three points in the next game, the statistics thus smile to the Red Devils. Statistics that confirm the good chance for Belgium to win the game: in the seven previous between the two teams are registered 5 draws and 2 wins in Belgium. No victory for Ireland
Statistics and standings can be found here: Statistics and predictions Belgium - Ireland