The second quarter-final of the Europeans will see in Wales Belgium scene Friday, July 1 in Lille.
Kick-off at 21. The winner will face a semi-final between Portugal and Poland. Wales Belgium, Mertens on paper and companions start favorites, but a look at this Wales, one of the surprises of this European Championship together with super Iceland. We start to analyze the way up to here in Wales: the National Dragoons pulled off the pass to the quarter-finals thanks to a narrow victory obtained against Northern Ireland thanks to a play by Bale. A victory won thanks to the team spirit, strength and sacrifice. Belgium comes in this match after 4 to 0 trimmed to Hungary.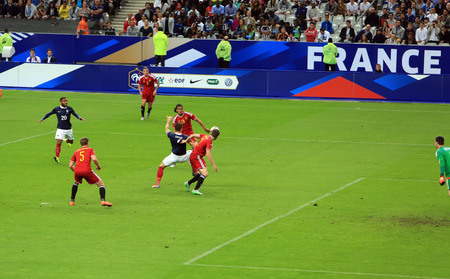 A result may be too heavy for the Magyars who collapsed in the final after some time had, but which has in fact confirmed the dominance of boys Wilmots. Coleman should deploy Wales with the 3-5-2 formation, no change for a team came up in the quarter. Hennessey door, Gunter Williams and Davies in defense, strong midfield with Taylor Allen Ramsey Ledley Chester, in Bale and Vokes attack. In Belgium Wilmots will be without the suspended Vermaelen. Courtois in goal, defense Meunier Ciman Vertonghen, Alderweireld, Nainggolan and Witsel front of the defense, Lukaku up front supported by the trio De Brunye Hazard and Mertens
PROBABLE LINE-UPS WALES BELGIUM:
WALES (3-5-2): Hennessey; Gunter A. Williams Davies; Taylor Allen Ramsey Ledley Chester; Bale Vokes. Coach: Coleman
BELGIUM (4-2-3-1): Courtois, Meunier Ciman Alderweireld Vertonghen; Nainggolan WItsel; De Brunye Hazard Mertens, Lukaku. Coach: Wilmots
Which prediction for Belgium Wales? The editorial recommends GOL YES.
The recommended bookmaker is who share the GOL YES 2.60. also encourages punters with interesting prizes and bonuses do not miss to enrich played. Here is the detailed analysis of our prediction:

- Wales and Belgium have an in-form attack. The Dragons have scored 7 goals and have a bale size and super top scorer with 3 goals demonstrations. In the 4 races of these Europeans Wales he has always scored. Belgium, after being left empty-handed against Italy has scored 8 goals in 3 games. Lukaku is the scorer of the team with 2 goals
- Not only Lukaku. Belgium has a great attack dusting. Against Hungary Hazard he has revealed all his class with winning play, assists and goals. The team has also shown that they can go into the goal with other players
- In Wales there is also a Ramsey fit. The player has already left its mark
- The two defenses could suffer Bale on one side and Hazard on the other. Also Wilmots will have put in place since banned, the defender Vermaelen, without a shadow of a doubt the best player in the defensive line. Cynical in attack but with some carelessness in defense: the two teams have also highlighted errors in defense
- Wales and Belgium have met in the qualifying rounds: Bale has already left its mark
- Wilmots will have available in defense Vermaelen as disqualified. A blow for Belgium will lose the best player of the defensive line. It 'possible that the team suffers the lack of rocky defender.
Statistics and standings can be found here: Statistics and predictions Wales - Belgium