Even Germany Italy at the European, as well as in 2012, but this time the two great formations of Europe will face in the quarterfinals.
Germany Italy, kick-off at 21 Saturday, July 2 in Bordeaux. Just as happened in Italy Spain, the board of these Europeans wanted Germany Italy they met long before a hypothetical and highly anticipated final. The two teams are in great form this game. The Germans beat for 3 to 0 Slovakia dominating the entire race, while the Blues "matato" Spain 2 to 0, but the score could be higher, the De Gea miracles have saved the "Roja" by a taxable sharper.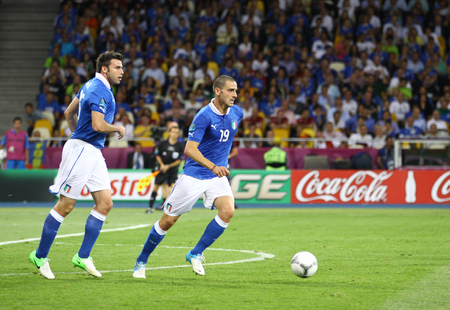 It will be an Italy with a few problems in midfield due to the absence through suspension is Thiago Motta to which you should also add Candreva and De Rossi because of an injury. Probable inserting Sturaro by 1 '. A 'Italy that surely will field as usual competitive spirit, heart and determination.
Largo to 3-5-2, form that convinces non-returnable. Buffon in goal, Barzagli Bonucci and Chiellini in defense, Florenzi Sturaro Parolo Giaccherini and De Sciglio in midfield, Eder and Skin in attack. Low will rely on 4-2-3-1. Neuer in goal, Kimmich Boateng and Hummels Hector in defense, Kross and Khedira in midfield, Gomez lone striker with supporting Ozil and Muller Goetze. Only ballot between Goetze and Draxler, encouraged the author of the winning goal for Brazil against Argentina in the final.
PROBABLE LINE-UPS GERMANY ITALY:
GERMANY (4-2-3-1): Neuer; Kimmich Boateng Hummels Hector; Kroos Khedira; Muller Ozil Goetze; Gomez. Coach: Low
ITALY (3-5-2): Buffon; Barzagli, Bonucci Chiellini; Florenzi Sturaro Parolo Giaccherini De Sciglio; Pellè Eder. Coach: Conte
Our recommended prediction for Germany Italy ITALY is WIN OR DRAW quoted at 1.70 on .
The well-known bookmaker offers bonuses and rewards to do in all bettors who choose to rely on for this play. Here is the explanation of our prediction:
- Germany Italy has also always delivered excitement in the history and the background smiling at the national team. From Mexico '70 (over 4 to 3 for Italy) via the World Cup final of '82 (3 to 1 Italian), the semifinals of the World 2006 (2 to 0) and finally the semifinals at Euro 2012 (2 to 1). In the races that matter Italy has always fought the Germans
- Italy has also confirmed against Spain its excellent defensive ability. Buffon Barzagli Bonucci and Chiellini have proved insurmountable and decisive (Chiellini with the goal, Buffon for parades in the final). Poker aforementioned receive no goals in the three games played in this European Championship. Germany could accuse this incredible run of form
- Against Poland in fact the Germans have failed to go beyond the 0 to 0. The solidity of Glik and company allowed the Poles to close any space, while Germany has failed to create danger. Can a simile in the race with Italy
- The National Conte grinds km at every game: the statistics show that Italy is the formation that has over more up to date among all participants
- Germany has not yet met a great training with which face off in this European Championship. The first race against the Germans top clubs may have a difficult
- Germany in its history has never eliminated Italy in a final stage of a European or World Cup: there are indeed four draws and as many defeats
- Germany Italy, in the last 5 matches between official and friendly matches brought 3 draws
Statistics and standings can be found here: Statistics and predictions Deutschland - Italien