Ready to go, France Republic of Ireland will be the fourth eighth European Cup Final which will be staged this weekend.
Giroud and company will have to see this match having won their group: seven points from three matches, the result of two wins (only arrive in the final) and a goalless draw against Switzerland. He has not delivered a total football throughout the 90 'France, but the national Deschamps has shown that when pressed on the accelerator and that's when the whole squad from midfield to decide to bring home the three points, there' it is for anyone. It not by chance is one of the favorites for the final victory.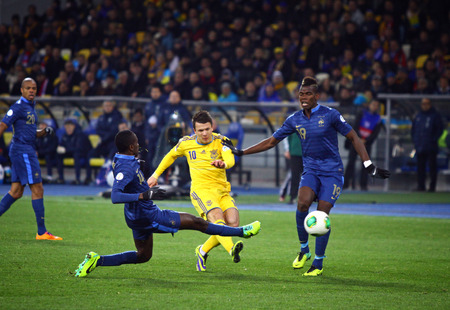 The Republic of Ireland will face France thanks to the victory in the final minutes against Italy three points that allowed the "green" to finish the group with 4 points and be among the best third. It will be a France that should take the field with the 4-2-3-1. Lloris in goal, Koscielny and Sagna Rami Evra in defense, and Kanté Pogba in midfield, Matuidi Griezmann Payet supporting Giroud. No ballot expected. O'Neill could deploy a mirrored training at the French. Randolph on goal, in defense Coleman Keogh Duffy and Drady, McCarthy McClean in midfield, Long lone striker with Hendrik Hoolahan Murphy behind him. Two possible ballots, Duffy and O'Shea and between Murphy and Ward, favorites appear to be first mentioned
PROBABLE LINE-UPS FRANCE IRELAND:
FRANCE (4-2-3-1): Lloris, Sagna Rami Koscielny Evra, Pogba Kantè, Matuidi Griezmann Payet, Giroud. Coach: Deschamps
IRELAND (4-2-3-1): Randolph, Coleman Keogh Duffy Drady, McCarthy McClean, Hendrik Hoolahan Murphy; Long. Coach: O'Neill
France Republic of Ireland, the prediction recommended by our editorial staff is 1.
The recommended bookmaker is bet365 who share the victory of France at 1.47, reaching as the highest on the market. bet365 also offers awards and bonuses should not miss to keep improving any winnings. Here is our analysis on the winning choice of France. From a technical point of view, France is clearly superior to the opponents. The individuality of Payet and Pogba are visible to everyone, even seasoned by the force of Giroud and unpredictability of Griezmann, without forgetting Matuidi and Kanté. The Republic of Ireland, despite the victory against Italy, highlighted some limitations in attack. The networks of O'Neill's team came by virtue of actions taken by the midfielders. The Irish defense also could suffer the speed of Payet and the class of Pogba in midfield: the player of Juventus, after the first two races subdued, against Switzerland has finally returned to its levels going again close to the net and hitting well a resounding wood. The Republic of Ireland also has a very prolific attack: only 6 goals in as many games including friendlies and d Europeans, only two goals in this competition. Instead the 14 goals scored by France between friendly and official games in their last 6 games. 5 wins out of 6 races for France, a hand to opponents in as many races. Statistics also thus smile at Payet and his companions. Direct comparisons are also in favor of France: two victories in the last four games, no losses and two draws. Deschamps also be able to count on some players rested against the Swiss: Kanté Payet Griezmann Giroud and Matuidi will have more forces than an opponent than against Italy gave 100% for the next round.
Statistics and standings can be found here: Statistics and predictions France - Ireland