The last match of group A see in front Switzerland France.
A decisive game for first place given the 6 points for transalpine and 4 for the Swiss. Switzerland France, the formation of Deschamps has already qualified, but struggled a lot in these first two games by winning against Romania and Albania only in the final minutes showing the game, determination and character only in flashes. Switzerland comes this match after the draw against Romania: Dzemaili and fellow point to the next round, but dream big.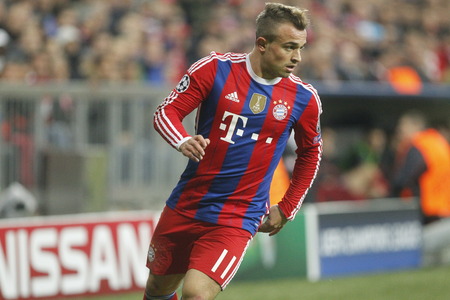 The division of the stakes would allow both teams the passage of visas round zero points in Albania and the only point of Romania. They could also settle for a draw the two teams, but Switzerland still going to surprise everyone. Switzerland France, here is the analysis of the likely formations. Swiss which could take the field with the best education possible despite some yellow cards to some important players. Sommer goal, Lichtsteiner Djorou Schar Rodriguez in defense, midfield hinge Xhaka Behrami, Dzemaili behind the strikers Shaqiri Seferovic.
France with a 4-3-2-1 very likely. Lloris in goal, in defense Sagna Rami Koscielny Evra, Pogba Kanté Matuidi in midfield, and Payet Griezmann supporting lone striker Giroud.
PROBABLE LINE-UPS SWITZERLAND - FRANCE:
SWITZERLAND (4-3-1-2): Sommer, Lichtsteiner Djorou Schar Rodriguez, Xhaka Behrami, Dzemaili, Shaqiri Seferovic. Coach: Petkovic
FRANCE (4-3-2-1): Lloris, Sagna Rami Koscielny Evra, Pogba Kantè Matuidi, Griezmann Payet, Giroud. Coach: Deschamps
Switzerland France, our prediction is recommended 1X.
We may want to play the odds on bet365 that share to 1.90. bet365 offers interesting prizes and bonuses to all bettors, even during recording. Here is the explanation of our prediction. Deschamps, despite two different formations against Romania and Albania, has not yet found the right square. Pogba off and Griezmann (disappointing debut) against the National De Biasi, changes in race form under way, some slight recovery was seen, but at the moment France seems a team still under construction and can not depend only by the flashes of Payet class. slow and predictable game. Switzerland on the contrary has been shown to play as their organization and compactness, which is why the Petkovic team can dream of the bang. A draw could also be fine to both teams given the danger the yellow card for a few key players: Kanté and Giroud for the French, Xhaka and Behrami Schar for Swiss. Deschamps and Petkovic may opt to choose a strategy doomed to a limited competitive spirit in order not to lose the players mentioned above. But at the same time there is also a Switzerland that will certainly try to take revenge of 5 to 2 suffered during the recent World Cup.
Statistics and standings can be found here: Statistics and predictions Switzerland - France